Mary Jo Brown from Craig, Colorado has learned the secret of using color in clothes and decor to uplift her mood. We can be proactive about incorporating color too. BBL
One thing some of us tend to take for granted is our ability to see the many colors of the world. I particularly am fond of pastel colors. However, I tend to associate different colors with different feelings. Light blue represents serenity, light green is peaceful, soft yellow is warmth and tan is a warm, homey feeling.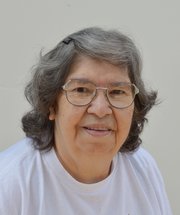 #
Some of these colors were ones I had in my home when I lived in a house, but because I live in an apartment now and can't paint the walls, everything is white. In order to jazz the place up a little, I add splashes of pinks, yellows, purples and sage green. Along with many other people when decorating, I use the colors associated with the season that we are in, such as oranges, browns and reds for fall or greens, reds and white for winter.
#
The colors I choose to wear are different. I like to wear deeper jewel colors but throw a bit of pastel in there for comfort. The only color I don't like to wear is black. It is a color that looks fine on others but for me, no way. My thinking is that the color you are wearing will affect your mood for that day. Wearing bright colors that bring attention to you can make you feel active and energetic. Colors that bring you comfort will help you through a stressful day and make you feel at ease. You can use colors in many ways: in your home, dress, appearance and to express yourself.
#
Many of the expressions we use have colors in them: "Looking at life through rose-colored glasses;" "He was in a black mood;" "I was so mad, I was seeing red;" and also yellow-belly, redneck and so on. Be sure to look around and appreciate the colors of the season. It isn't all brown, even though we are in late fall. There still is a hint of color here and there and the sunsets are beautiful. Use color to express yourself, and I hope it lightens up your day and gives you a rosy outlook on the gray days of life.
Mary Jo lives and works in Craig, Colorado.