Why eat colorful food? Because it keeps us healthy and strong and it delights our eyes as well.
Lori Okami from Hawaii has classified food by colors and makes suggestions of how much of each color to consume. Check your plate, you don't want to consume too many meals that look like the last example!
Happy New Year.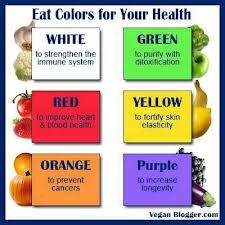 Some sage advice came from my faithful nutrition guru....eat by color. Have vibrant, colorful meals and get a balance of nutrients. This quick tip has made meal assembly and the journey to more nutritious meals a lot easier and fun. It's a method that has been easy to implement with the children and lets us escape studying foods to death and over-analyzing our eating.
We take in various phyto-chemicals which protect us when we eat fruits and vegetables. These work to boost our immune system and the colors are a fascinating way that nature goes about highlighting these beneficial nutrients--give them bright, attractive colors.
Choose foods that represent the colors of the rainbow. The USDA suggests paying particular attention to orange and red (5 1/2 cups per week) and dark green (1 1/2 cups per week) produce, both good sources of vitamin A and other important nutrients.
I simplify it by making certain that I get at least 4 colors per meal, have a fair amount of each color (meaning that parsley or green onion sprinkles as a garnish don't count), and a mix of these 6 color groups. See a few examples below:
Eat the colors of the rainbow and be well. Do this...