Brilliant patterns of flowers by Gustav Klimt resemble his portrait patterns.

Gustav Klimt, Bauerngarten, 1907. Image: Wikimedia Commons.
Last year the billionaire talk show host Oprah Winfrey sold the
Gustav Klimt
painting
Portrait of Adele Bloch-Bauer II
(1912) to a Chinese buyer for $150 million. As
Bloomberg
first reported, the deal was one of the biggest private sales of 2016 and represented a near-doubling of the work's price, just 10 years after she bought it for $87.9 million. And that wasn't even the highest price the painter has fetched of late. A year earlier, the Russian billionaire Dmitry Rybolovlev sold
Water Serpents II
(1904–07) privately for $170 million to an unknown Asian buyer.
"It's an excellent time to be selling a Klimt," says Thomas Bompard, a Senior Director in the Impressionist and Modern Art department at Sotheby's, which is auctioning the Viennese Secessionist artist's vibrant landscape painting, Bauerngarten (1907), with an estimate in excess of $45 million, on March 1st. The painting last sold in 1994 for $5.8 million.
Bompard says two factors have contributed to the recent steep rise in prices for Klimt's work. One is the rarity of his works on the market: Klimt only created around 250 paintings in his whole life, most of which are now in museums.
The other is the growing number of Asian collectors who have recently been snapping up trophy works by Western
Modernists
such as Klimt,
Picasso
, and
Van Gogh
. Over the past five years, Sotheby's has seen a 69% increase in the number of Asian buyers in its Impressionist and Modern art sales, a Sotheby's spokeswoman said.
"Klimt appeals to Asian buyers because he often blurs the boundaries between decorative and fine art, painting and drawing
," Bompard says.
Klimt only painted around 55 square-format landscapes like Bauerngarten—a composition he adopted quite early in his career, according to the Viennese curator Alfred Weidinger, who wrote the 2007 catalogue raisonné of Klimt's paintings.
"There are very few landscapes by Klimt left in private hands," Bombard says. "Works that tick all the boxes—sublimely executed, impeccable provenance, excellent condition—only come on the market every 20 years."
That scarcity, combined with growing demand from Asian collectors, is expected to push his work to new auction highs. "Collectors should be prepared to commit at the highest level if they want to be sure to hang this painting on their wall," he says.
For example, the current record for a Klimt landscape painting at auction is $43 million, on a par with the estimate for Bauerngarten, but Bompard expects that figure to be surpassed. Weidinger says he knows at least three Asian collectors are looking for works by the Austrian artist, one of whom was the deep-pocketed likely buyer of Adele Bloch-Bauer II last year.
Interest for Bauerngarten is not limited to Asia, says Weidinger, who describes the work as one of Klimt's 10 best landscape paintings. Klimt painted most of his landscapes, including Bauerngarten, in the Salzkammergut region of Austria, at Lake Attersee and elsewhere. And, as it happens, "a non-Asian collector with a country house on Attersee is searching for an important piece," according to the curator. Article by Anny Shaw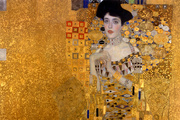 What Is Art Nouveau? See the article next week. BBL